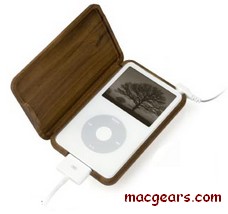 As a continuation on the earlier post on iPod 5G casing by TinPod, iPod owners who do not fancy metal bracing their precious music maker, can now opt to go natural by using wooden casings instead.
Made in Holland by Miniot, the casings come in two sizes; iWood Nano (synonymous to the iPod Nano) and iWood 5G (synonymous to the iPod Video). These casings are made from a single piece of hardwood which ensures that you dress your iPod in style without visible wooden joints.
When you purchase your iWood, not only do you get your wooden casing, you can personalize your very own monogram engraving on the top and an additional 2-line message on the inside. The iWood Nano is priced at €75 ($95) while the iWood 5G is priced at €85 ($108). For more information and purchasing details, please visit Miniot's web site.