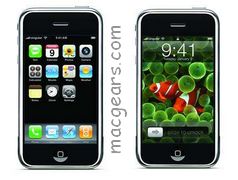 This blog post is probably the millionth time you read about the iPhone unveiling at the last MacWorld Conference and therefore, I will not dwell into the nitty gritty technical specifications. As expected, true to Apple's great capabilities and creativity, the iPhone shown was indeed a beautiful piece of art and yet packed with functions and features.
Apple Inc. describes the iPhone as a combination of three products; a mobile phone, an iPod and an Internet communications device – packed with email, web browsing, maps and searching functions. I love the fact that Apple has incorporated Google Maps into the iPhone. Now, if a GPS accessory add-on for the iPhone os introduced, I can leave my current GPS device at home whenever I go car cruising.
Priced reasonably at $499 (4GB iPhone) and $599 (8GB iPhone) and 2 years contract with Cingular, the iPhone is poised to end up in consumers pockets and handbags in the millions. It is also envisioned that many accessory for Apple iPhone will be designed and produced for this lucrative market. For one, iPhone skins will sell like hot cake as the current iPhone screen screams to be scratched.