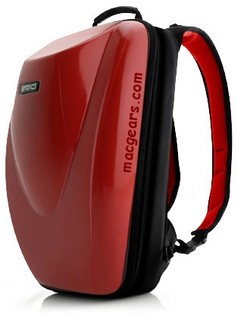 Avid bikers are going to love this hardpack — Axio not only designed this hardpack with aerodynamics in mind, it also combined an aggressive outlook with modern functionality. Although the top of the pack is hard, the back of it is soft and ergonomically built for comfort.
The interior storage space boasts of a size of over 1200 cubic inches which has multiple compartments to store your BlackBerry, iPod, the newly unveiled iPhone and other devices. The main compartment should fit your MacBook, MacBook Pro, iBook and PowerBook easily up to the 17″ model. However, take a quick peek at Axio's Swift hardpack dimensions to be absolutely sure.
The Axio Swift Hardpack has a suggested retail price of $134.95 (Amazon's price is $118.00
) and is available in Gloss Red, Electric Blue, Carbon Finish and Metallic Gray colors.