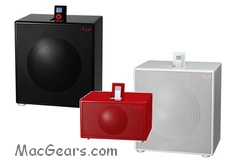 If you are looking for speakers that not only look good but also sound great when playing your digital music, you should check out the Retro iPod speakers by Geneva Labs. Unlike traditional sound systems which require two speakers connected by wire, Geneva speakers combine both speakers into one speaker cabinet. This allows for the sound quality to be optimized throughout the room.
The good-looking Geneva speakers come in two versions, the model L and the model XL. The difference is in the size of the speaker box. You can choose from the red, white, or black model. There are also optional floor stands which lift the speaker box off of the ground.
The Geneva iPod speakers can play your iPod Video, iPod photo, iPod Mini or the iPod nano in addition to CD's. It also has FM radio capabilities. All the stereo features can be controlled by the remote control.
Perhaps the only drawback to the Geneva speakers is the price tag. The smaller model L unit costs $599 and the larger model XL unit costs $1075. However, if you are serious about digital music and you want a speaker system that will provide high quality sound from your iPod this system might be the way to go.
For more information, visit Geneva Lab at http://www.genevalab.com/