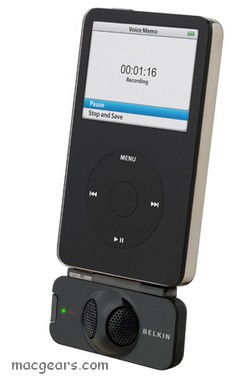 With Belkin's TuneTalk, you can now record voice memos directly into your iPod with the clarity comparable to CD quality.
To use, simply attach the TuneTalk to the base of your iPod which houses 2 omnidirectional microphones. However, to review or listen to your recorded memo, you still require an earbud or through iTunes. An extremely important accessory when required, you can use your iPod with TuneTalk to record that important meeting, interviews, college lectures or even normal conversations.
To save your hands from cramps, this accessory comes with a stand allowing you to operate in a hands-free mode. It even charges your iPod if the cable is connected; ensuring that you do not lose power in the middle of recording.
With a price tag of $69.99, the Belkin TuneTalk comes only in black color. At press time, Amazon's price is $46.22
.