Besides listening to the iPod all the time, you can use your iPod to records stuffs as well. A friend of mine had a conversation about recording over the iPod and he was very adamant (or should I say stubborn) that the iPod is built for listening and not for recording. Talk about love for an iPod.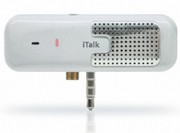 There are 2 ways that you can get started recording. Firstly (the easiest way), get yourself a Griffin iTalk, iPod Voice Recorder ($39.99) and start recording audio sounds. with these devices you do not have to install anything else. When you plug the iTalk into your iPod's headphone jack, your iPod will immediately go into voice-recording mode.
The other way (FREE!!) of getting your iPod to record is using a software called podzilla. Do note that not all iPods can be installed with podzilla as you will be required to boot into your iPod's linux. With the podzilla, you can then use a normal microphone and record away.
Armed with a recording iPod, you can now record your lectures, voice memos or the chirp of a bird. If you are contemplating signing up for the American Idol contest, you can even sing into your iPod and listen to yourself after that. There will be no stopping you from practising, anywhere. You'll never know, with a $40 addition to your iPod, you're on your way to be the next American Idol winner!!