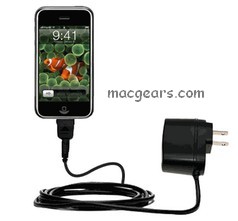 As with any other mobile phone, smartphone or Personal Digital Assistant (PDA), you will need to keep your Apple iPhone charged and ready to go. The rapid travel charger for Apple iPhone will come in handy if you are always on the move, on a business travel or simply on a vacation.
Available at a price of $29.95, Gomadic's new Apple iPhone Rapid Wall AC Travel Chargers boasts of delivering double amount of surge-free and safe power; thereby charging your iPhone fully in half the time compared to other chargers. The slim design makes this rapid travel charger very portable and easily stowed away in your haversack or briefcase.
If you are traveling overseas, have no fear as this travel charger is able to work on voltages ranging from 100 to 240 volts. All you need is an power adapter for the country that you will be visiting. At press time, the Gomadic's Rapid Wall Travel Charger is available from Amazon.com at an offer price of $19.95
.