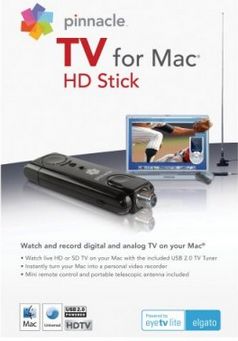 If you've been looking for a way to get even more out of your Mac, and fancy the idea of changing it into a portable media centre, then the Pinnacle TV for Mac HD Stick is the perfect solution for you.
This great gadget which is similar to your home's HD antennas, allows you to enjoy all the functions of a top end television with HD (High Definition) on your Mac wherever you are. Simply plug the stick into the USB port on your laptop, and you can start watching television immediately in either HD or SD (Standard Definition) format.
The Pinnacle TV for Mac HD Stick comes complete with everything you need to get up and running including a telescopic antenna to offer excellent picture quality wherever ATSC (High Definition) transmissions are available. You also get the Elgato Eye TV Lite software suite that will allow you to watch, record, and instantly rewind television as it is received.
With this plug in TV Stick, you get a fully functional digital television and personal video recorder that fits into your pocket when you aren't using it. It will receive both Analogue NTSC and Digital ATSC transmissions, stream HDTV pictures through the high quality screen on your laptop, and allow you to record and playback television whenever you want.
Thanks to the full function remote control, you can even change channels, call up a comprehensive interactive TV guide on screen, without having to press a button on your keyboard, allowing you to enjoy TV on the go whenever you want, and wherever you are.
With the Pinnacle TV for Mac HD Stick, you will be able to get all the functions of a top quality media centre PC with personal video recorder capability in a laptop. It offers an excellent solution to anyone wanting entertainment wherever they are. Easy to use, and stylish enough to get it out in public, this device extends the functionality of your Mac to let you combine work and pleasure, and even allows you to run TV in a small window on the desktop to allow you to keep an eye on an important game, or your favorite show, but have to work, you can do both at the same time.
For more information about the Pinnacle TV for Mac HD Stick, visit Pinnacle's website or click here for consumer reviews
. The Pinnacle TV for Mac HD Stick is retailed at $129.99.