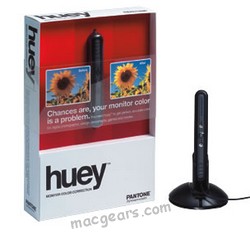 Getting the perfect color balance on your computer monitor will allow you to get more from your computer. From getting the right shades and tones on photographs to make sure that they look great when they are printed, through to ensuring that movies look just as good on your computer as they do in the cinema, getting the colors right on your PC or Mac is essential.
Work is easier on the eye when your computer screen is well set up, and you will find that when the colors are correct on your monitor, you suffer from less eye strain than you would normally when working with images or on web sites.
The Pantone Huey is a special device that is compatible with almost all computers and both CRT and LCD monitors. It works by analyzing the ambient light and adjusting the contrast and brightness levels on your computer monitor to ensure that the colors are displayed properly and appropriately to the conditions.