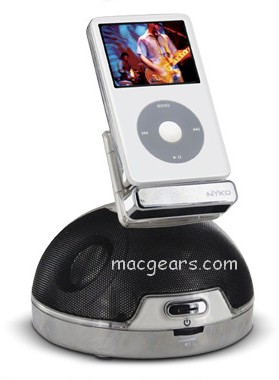 iPod speaker docks have become more and more common as most people have their whole music library on their iPod. A speaker dock allows you the freedom to listen to your music without being held back by headphones.
The NYKO speaker dock is an excellent choice for someone considering the purchase of a speaker dock. It has a round speaker with the iPod mounted on top. It looks much more stylish than a traditional dock system which typically features a square base which the iPod is placed into.
The NYKO dock contains two speakers which provide high quality sound. Not only does it sound great, but it works to recharge your iPod while you are listening to music. In addition, it contains a port to allow you to transfer files at the same time you are charging your iPod. It has an adjustable base so that it can fit any size iPod except the iPod Shuffle which is great for a family or individual who has more that one iPod.
It can run off of batteries or using an AC adaptor. The iPod base can be moved around for ease in watching videos if you have an iPod with that capability.
The NYKO speaker dock will cost you around $80 which is a great price and comparable with other docks that are less stylish and have less features. For more information, visit NYKO's webpage.