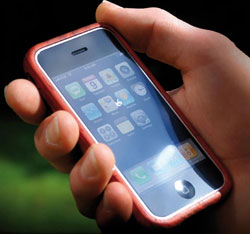 Although for many people, the sleek, highly polished finish and clean lines of the iconic Apple iPhone – hallmarks of the design genius of Jonathan Ive – are one of the main attractions towards owning one of these desirable devices, there are those who want to be able to enjoy the elegant functionality of the iPhone with a more natural appearance, and to this end, one of the leading iPod accessories companies, Miniot has recently released a range of wooden iPhone covers.
The range of natural iPhone covers in wood from Miniot build upon the reputation that the company has developed for producing high quality wooden cases for other models in the Apple range including the iPod classic. The wooden cases are produced to the absolute highest standard, and use only the finest woods.
By using natural materials from sustainable sources, Miniot have managed to tap into the imagination of many of the first wave of iPhone owners by giving them the opportunity to give their stylish phone a really great and eye catching natural look.

The natural wood iPhone cover clips into place around a standard iPhone leaving the touch screen completely accessible. It offers a certain degree of protection from scratches and other bump damage, but is mainly intended as a style statement. Great care has been taken with the design and construction of the phone covers to make sure that users still have complete access to all functions including the camera, and provided that the case is installed correctly, it will allow for normal use of the phone.
There are a number of different options open to buyers including getting their wooden iPhone cover in a variety of different materials, including Oak, Cherry, and Mahogany, and it is also possible to have a special message or logo carved into the surface of the wood in order to personalize your iPhone cover even more.
While the Miniot wooden iPhone cover may not be to all tastes, it manages to look extremely stylish in use, and does its job of protecting and enhancing the iPhone very well indeed. It may be an accessory that is aimed at a particular niche in the market, but it is beginning to exploit that niche very successfully.
The last check on Amazon yielded no wooden iPhone covers in their inventory but they do have some great iphone cover & cases
. You can order Miniot's iWood directly from their web site for $100 or 75 Euros each.