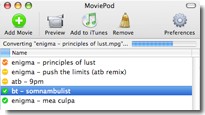 Apple's recently released iPod 5G is a huge step towards media domination in the technology industry. With the new iPod 5G's ability to store and play up to 150 hours of high quality video on the small player, this is an exciting new innovation for Apple and music fans. The downside of the new iPod 5G, is that video needs to be in a specific format, and a specific screen size to play on the iPod. Otherwise the video capability is useless.
We recently reviewed another similar application to MoviePod, called Podner. MoviePod is Podner's main competitor in the video converting market for Apple's iPod's. Let's take a look, and see what MoviePod has to offer!
My first impressions of MoviePod; were a well-designed application, which has so much to offer. Not in the means of a total simplistic look, but MoviePod exhibited a sensational amount of options and tweaks; to make your movie the exact way you want it.
Like Podner, in the options menu, you get to choose video resolution, video quality, audio quality, and many more conversion methods. You have the option to add the movie/s to iTunes once converted, and also a few general application tweaks.
MoviePod supports every common movie format (MOV, MPG, AVI, ASF, WMV, VOB, DV and QuickTime plugins) so you can easily get your movie collection onto your iPod!
The options available are much more solidly built than Podner, and have more vital customization tweaks.
The standout feature of MoviePod in my opinion, is not the jaw-dropping set of features, nor the simplistic design, but its the ability to "queue' movies. You can add more than one movie to the main application window at once. Then when the first movie is done converting, it will automatically move onto the next, as so forth.
Something else that stood out with a great force to me, was the ability to preview the newly converted movie, while it was still converting! Great for people that cant wait to see their videos in new crystal clear H.264 format.
MoviePod's main competitor, Podner, wouldn't run without Apple's Tiger 10.4 operating system. MoviePod is one step ahead, and has programmed their application to run on Panther 10.3.9. This is very handy and pleasing for people with a video iPod, but don't want to shell out the money on Tiger.
Yet, there is one noticeable downside to MoviePod. MoviePod does not display the time left in the converting process like Podner. Not a large feature to leave out, but it's something that most will notice and dearly miss. This is something I would like to see added in the next version.
The user interface is very simple and easy to use. If you are on the lookout for a video converting application to partner up with your iPod 5G, have a look at Null Rivers MoviePod. Null River offers a free trial of the programme and you can upgrade it to the full version for $10.