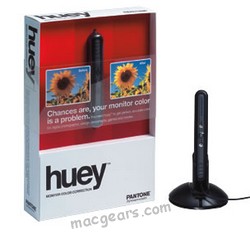 Getting the perfect color balance on your computer monitor will allow you to get more from your computer. From getting the right shades and tones on photographs to make sure that they look great when they are printed, through to ensuring that movies look just as good on your computer as they do in the cinema, getting the colors right on your PC or Mac is essential.
Work is easier on the eye when your computer screen is well set up, and you will find that when the colors are correct on your monitor, you suffer from less eye strain than you would normally when working with images or on web sites.
The Pantone Huey is a special device that is compatible with almost all computers and both CRT and LCD monitors. It works by analyzing the ambient light and adjusting the contrast and brightness levels on your computer monitor to ensure that the colors are displayed properly and appropriately to the conditions.
The Pantone Huey simply plugs into your computer, and instantly adjusts the tones on the screen to suit your taste. Once you have set up your preferences, Huey remembers them, and will constantly work to maintain perfect levels at all times.
Instead of finding yourself in a situation where the photo you adjusted looked great in the afternoon, and yet doesn't print out properly in the evening, you will be sure that whatever time of day, and under whatever conditions you are using your computer, you can enjoy exactly the same screen details and get exactly the same picture quality as you want.
If you are a designer, or your work relies on accuracy, then having a Pantone Huey to hand is more and more essential. The standards expected on most computer graphics projects today are unforgiving, and in order to meet the strict demands of a client, you need to make sure that you get consistency.
Once you start to work with a monitor that offers the same performance whatever the conditions around you, you will discover that you can achieve a higher standard of perfection with your graphics than ever before. Pantone Huey will also allow you to enjoy a higher quality of entertainment through your computer monitor than ever. More lifelike images, better quality films, and more believable in game environments are all just a step away.
For more information about the $89 Pantone Huey, visit Pantone's product page or read up on customers' reviews
.