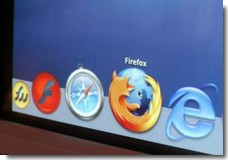 We all have times when we need to get a screenshot of what is on the Mac's screen. You may own a website and be writing reviews that you need in action images for, you might want to show something cool to a friend in another country, or you might have seen something unusual, and want to capture the moment to show off to friends.
FreeSnap is the ultimate screen taking application. It beats both SnapzProX and Apple's included application "Grab", by a considerable margin.
Why is FreeSnap so good? The application has a great, simple interface, and is full of options to capture a perfect picture.
Some of your screenshot options available include full screen, selection, open window, and fixed location. Now we move onto the exciting options – You can now choose a scale for the image, this helps when you need the image to fit onto a certain web page, or you just want to save space and time when uploading.
It even has a timer feature. Therefore, you can set the timer and get the window exactly set into position for the snapshot; Stunning!
You can even set up handy keyboard shortcuts to take screenshots. Perfect if you need to quickly capture an image, and do not want to open an application up.
Some of the output options include file type, filename, and save destination. You can save the image as the following image types; JPG, JPEG, PNG, PSD, TIFF, PDF, BMP, TGA, SGI, and even more! The list goes on. There is even a compression option to take the file size down. That can be handy when sending to relatives and friends on a dial up connection.
This application is so popular in my opinion for the simplistic interface, with powerful features. Definitely worth a look!