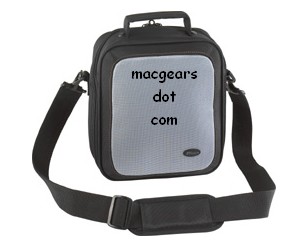 It is without doubt that the Mac Mini, being the small size that it is, is pretty portable and given a choice, I would not hesitate to bring it around. Instead of carrying it like a serving dish or putting it into your backpack, why not show it some love by protecting your precious Mac Mini and the valuable data inside it whilst in transit?
Have a look at Targus' product offering in the form of a travel bag specifically for your Mac Mini. Dubbed as the Mac Mini Travel Case, this bag features a hardened structure on the outside and padded sleeve inside with zippers to keep your Mac Mini secured. Inside, there are 2 pocket holders that you can store your Mac Mini accessories.
Transporting the Mac Mini in the Travel Case, you can either carry using the nylon handles or use the padded shoulder strap. The Targus' Mac Mini Travel Case can be obtained from Targus' site for $24.99.