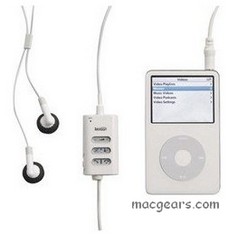 With the new myTalker ET7000 from Tekkeon, you can turn your iPod into a Bluetooth headset that is compatible with your mobile phone, and will allow you to take calls through your existing headphones.
The Tekkeon myTalker is a highly compact and sleek looking device that fits in perfectly with the Apple iPod, and thanks to its ingenious construction and use of Bluetooth technology, it will allow you to answer and reject calls without touching your phone, and then speak to your friends with its built in microphone and your existing headphones.
As with all Tekkeon products, the myTalker ET7000 is manufactured to the highest quality standards, and includes many touches that are rare on a device in this price range. The ET7000 features the latest technology throughout its construction including a fully rechargeable lithium polymer battery that will offer 5 hours of talk time and more than 120 hours on standby from a single charge. For charging, the pack also includes a standard USB 2.0 connector, so you can simply plug the myTalker into your Mac or PC and charge it up quickly and conveniently.
Thanks to its ingenious integrated microphone, and intuitive one touch operation, using myTalker ET7000 is as simple as can be. The unit has audible and visual indicators to let you know when you have a call waiting, and it will switch the signal effortlessly between phone and iPod, when you answer the call.
Thanks to its use of Bluetooth V1.2 wireless networking, the myTalker connects directly to your mobile phone within a distance of several metres, meaning that you can leave your cell phone comfortably in your pocket or even on the table, and simply push the call answer button on the myTalker, and it will communicate directly with your phone to answer the call without you needing to reach for the button on your phone.
At press time, Tekkeon's MyTalker is available from Amazon for $131.97
.