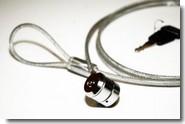 Statistics in 2004 for United States shows that more than 600,000 laptop thefts occurred, totaling an estimated $720 million in losses and an estimated $5.4 billion in theft of proprietary information. That's the good news. The bad news is, 97% of the stolen laptops were never recovered.
I cannot imagine the pain that will hit me if my iBook or PowerBook was stolen. Now, with Orbicule's software product called Undercover, I can at least have the assurance that my iBook stand a higher chance of being recovered if stolen.
Here's how Undercover works:
In the unfortunate event of a theft, Undercover will reveal the Internet location of your Mac. It will also periodically transmit screenshots, enabling you to monitor the stolen Mac. It is hoped that the thief will use for email, chatting and browsing so that it is easier to reveal the thief's identity.
In the unlikely event that the thief does not go unto the Internet, Undercover has what it calls Plan B.
In Plan B, Undercover will simulate a hardware failure (gradually making Mac's screen unusable). Accompanying this "hardware failure" is a message that a hardware failure is detected. This will make the thief to either send the Mac in for a repair or sell it off on the Internet. Bringing the Mac out into the open will most likely trap the thief as both Apple and Orbiscule tracks stolen product's serial number (provided you reported to them).
Some skeptics claimed that simply by formatting the hard-drive, the software would be removed and generally that is what thiefs do immediately after a theft. However, with Apple's Firmware Password installed, thiefs have no access to your iBook or PowerBook without the password.
Orbicule's Undercover is available for $29.99. For more information, visit Orbicule.