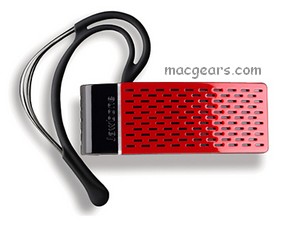 The iPhone has already redefined the standard for design in the mobile phone world with its sleek lines and large touch screen interface, and thanks to the enormous steps in style that have been taken with it, it has raised the bar for phones and any accessories.
In order to properly complement the stunning design of the iPhone, Jawbone have released an all new Bluetooth headset that has been specially produced in order to coincide with the iPhone's release.
Jawbone are well known for their existing range of Bluetooth mobile phone headsets, and are renowned as one of the top manufacturers of high quality accessories in the world. They have combined the highest design principles with a real attention to detail to release the kind of great looking headsets that you will be happy to be seen with.
In the past, many Bluetooth headsets for mobile phones have been criticized for being bulky and uncomfortable, but the latest models have taken miniaturization to the next level where appropriate, and are now much lighter, and slimmer than ever before. The Jawbone Bluetooth headset for iPhone looks fantastic, and is more lightweight and stylish than the majority of its competitors. It breaks with the tradition of the standard old style headset to set a new standard in the genre.
The new Jawbone Bluetooth headset is finished in a choice of colors to suit your mood, and features a brushed metal finish. Its functional design and high quality internal electronics make it a very efficient model that has been rated as the number one device of its kind in a review from the prestigious technology web site C|Net.
Its high quality reception and excellent noise canceling capabilities are highly rated, and the reviews have praised the way in which it provides excellent sound quality over a longer range than many of its competitors.
As you would expect from a Bluetooth headset for the iPhone the set up is absolutely straightforward, and takes a few seconds thanks to the intuitive interface. Talk time is excellent, and the headset will stay charged for more than a week depending on the usage.
The Jawbone Bluetooth headset weighs in at 1oz (28g) and is available in 3 colors; red, silver and black. The package comes standard with 4 ear hooks and 5 ear buds; mix and match to suit your ear comfortably. You can read consumer reviews
and decide if you want to own one at $90 from Amazon
(normally $149.99).