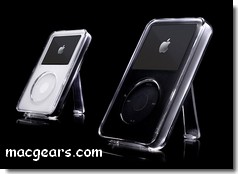 The team at iSkin are probably the hardest working folks in terms of designing and making practical yet stylish skins for the iPod. The iSkin Claro is an ultra clear polycarbonate shell made exclusively for the iPod Video (5G iPods) which boasts of features such as anti-scratch and inner silicone coating to protect your iPod from shock and moisture.
Owing to the fact that the Claro is crystal clear, your iPod's will continue to show its natural color (great if you have personalized your iPod); and if you are in the mood for colorful iPod, you can add on Claro Slims (sold separately) that comes in 2 packs – the Cruiser Pack (Blaze Red, Prince Purple and Blush Pink) and the Chill Pack (Ebony Black, Sonic Blue and Ghost White glow in the dark).
If you are the one who uses Apple Dock, there is a minor drawback when using iSkin Claro – you would have to remove the iPod from the outer layer to dock it. One of the great ideas I love about the iSkin Claro is the integrated kick stand in its low profile belt clip. Such ingenuity allows you to stand your iPod upright whenever you are watching videos.
You can have your own iSkin Claro for $39.99 and the add-on Claro Slims at $25.00 at www.iskin.com. Amazon has the iSkin Claro at $28.99
and the Claro Slims at $22.99
.