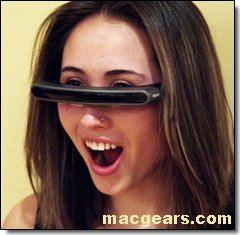 What does this MYVU do? The first impression is that it's a 'futuristic space age' sunshades but instead of protecting your eyes from the sun, the MYVU it allows you to watch your TV shows, music videos and podcasts and movies anywhere! It works like this: the viewer takes the output signal from the media device and projects a floating image that you can see around and it comes with built-in noise reducing ear buds for stereo sound.
The MYVU Personal Viewer comes in two models: one specially designed for the iPod and the "universal edition" that works both with the iPod and with portable DVD players. The universal edition can pretty much be used with any media device as long as it has a video out port; plus is cheaper than the other model, although it uses 3 AAA batteries and not an ultra-thin lithium battery like in the iPod edition.
The MYVU Personal Viewer is a cutting-edge technology in portable display giving you the smallest and lightest eyewear display in the market. Plus the design is irresistible and it comes with extra gadgets like a belt pouch to carry it and the iPod model includes a travel case.
Though it facilitates visual portability, it lacks high-quality resolution; displayingg only 320 x 240 pixels and 24 bit color depth. Futhermore, it's not exactly an affordable Christmas or birthday present, the MYVU is priced at $299 for the universal edition and $399 for the iPod model.
For more information, visit http://www.myvu.com