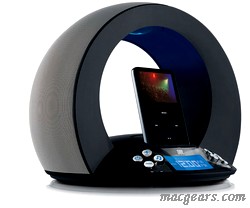 The JBL On Time is one of the most striking looking iPod docks currently available, and aside from its unique style, it also offers plenty of tech and coolness factor. The JBL On Time is an iPod Dock that offers superior sound quality from its speakers, and also has a built in radio and clock to wake you up in the morning.
Although its oval (semi circle if you must) shape appears a bit gimmicky at first, the unique shape of the JBL On Time is designed to offer 360 degree sound using speakers placed around its circumference, and when you listen to it for the first time, it is certainly very impressive when compared to more traditional iPod speaker docks.
The On Time features a standard iPod universal Dock Adapter, making it compatible with all models in the iPod range including the iPod Nano and iPod Video. It also has a small headphone jack so you can plug in any other kind of MP3 player (with an audio outlet), or even your laptop to provide a huge range of options and allow you to source your music from pretty much anywhere — radio included.
The speakers are of the highest quality, and although they are only 6 watts, thanks to the phoenix neodymium drivers, they offer significant sound, and are well balanced across tones to give a rich sound at most levels.
The actual functions of the 10" tall base station of the JBL On Time extend beyond just providing loud speakers but also an integrated LCD screen with a very user friendly menu system allowing you to set the clock, find radio stations, and even navigate through tracks on the iPod, although you may still find it easier to use the job wheel instead if you are more used to it.
Overall, the JBL On Time looks fantastic and delivers where it counts – the sound – making it a great addition to the ever increasing range of iPod docks that are currently available. It comes in 3 colors — white, black and aluminium; available at a MSRP of $249.99; while Amazon is offering at $207.95
at press time.