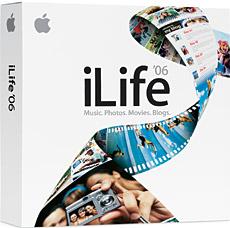 This year's update to iPhoto is a substantial one. Apple has worked hard, improving current features, and also introducing some cool new features.
Upfront, the notable change you will see when launching iPhoto 6 is the interface. The interface now matches that of iTunes 6, which looks very smooth and attractive. It has a soft touch of blue in the sidebar where your albums reside, and the rest of the interface has a nice aqua edge too it.
Faster Loading
One of the heavily marketed features in the new iPhoto is the major speed enhancement. When you open iPhoto your photos now load considerably faster. Scrolling through your photo library is also a much speedier experience. iPhoto now has the ability to store and organize up to 250,000 images, so the speed incensement will be dearly loved by those with larger photo libraries.
Photocasting
Apple's brand new feature to iPhoto, Photocasting has been talked about a lot among Mac fanatics. Photocasting allows .Mac members to share photos anywhere, anytime, all around the world.
When you click on an image, you can click the Photocast button, and it will publish the image to your .Mac account, along with automatically creating an RSS feed which others can subscribe to and view your images.
Once your Photocasting RSS feed is created, friends or family can subscribe to the feed directly through iPhoto, or if they use a Windows computer, the images can be viewed through any RSS reader.

Full Screen Editing
iPhoto 6 now allows you to take advantage of every pixel of your display, with its new feature called "Full Screen Editing". Full Screen Editing allows you to edit your images in a full screen setting; you see your image in the centre of the screen, surrounded by black darkness. When you move your mouse to the bottom of the screen, editing options pop out from the bottom of the screen, allowing your to perfect your images to the last, tiny detail.
Full Screen Editing has great potential to be expanded and updated by Apple. Hopefully we will see a similar feature in future iLife upgrades to other applications, such as iTunes.
One Click Effects
One of my favourite iPhoto features is the exciting effects you can add to images. This year, Apple has made applying effects to images a whole lot easier, with the new feature, "One Click Effects".
When viewing an image, simply click on the "Effects" button, and you are greeted with a small pop-up box, with 9 awesome effects you can apply to the image with the click of a button.
Greeting Cards
A feature inspired by iPhoto's "Book Printing", Greeting Cards are a welcome new addition to iPhoto 6. This new feature allows you to create a stylish Greeting Card to share with the family. To create one, simply pick one of the elegant Apple templates, drag your images into the template, and create your custom-greeting message. Once completed, hit the "Buy Card" button, and follow the prompts. This is another huge time saving feature.
Final Thoughts
iPhoto 6 is a major upgrade to the iPhoto application. All previous users of iPhoto should be eager to upgrade to the new version.
New features are plentiful, and the application now run's noticeably faster. Anyone with a large photo library will want to upgrade for iPhoto's stunning new speedy interface. Apple has added enough features to warrant an upgrade. In my eyes, and essential purchase for any iPhoto user.