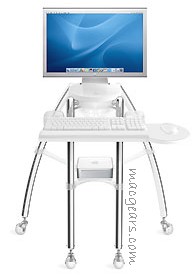 One of the main appeals of the current range of Apple computers is in their stunning design. The sleek lines and clean finishes of the iMac and Mac Mini, coupled with their easy to use interfaces have made them amongst the most popular Apple computers of all time, and converted millions of people to make the change from regular PCs.
Simply putting the box and monitor on a regular desk is no way to show off the stunning design of an Apple computer, so why not get yourself an iGo minimalist desk, which has been specifically designed in order to fit in perfectly with the design ethic of the latest Apple iMac and Mac mini computers, and allow you to extend the great design of the computer to your working environment. 
The iGo desk is easy to set up and fully adjustable to allow it to be used comfortably in either a standing or seated position. It is completely stable, and has four deceptively light looking legs that can be fitted with static feet, or alternatively smooth rolling casters that allow the desk to be moved around into any position. It is specially designed to perfectly fit either the Mac Mini with a cinema display, or the standard iMac, and perfectly complements the design of either computer.
The small size of the desk makes it possible to move into almost any position within the home or office, and allow you to enjoy working in whatever place makes you feel most productive and comfortable.
The iGo desk is also a great addition to any showroom, and brings a touch of class to what ever room it is stored in. It makes showing off designs to clients a breeze, and can be set up in a matter of minutes in order to make it an option to take with you to exhibitions or road shows if you want your display to look as good as the computer that you are showing it on.
Thanks to its hard wearing construction, and timeless minimalist design, the iGo is the kind of furniture that fits well into any room, and is well made enough to last for years, or at least as long as Apple Computers remain as stylish as they are at the moment.
The iGo Minimalist Desk is available in 5 designs; depending on the Mac model you have and the sitting/standing positions with the price ranging from $333 to $499
.