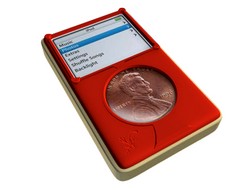 The iFrogz is not your normal iPod silicone cover. It is actually a triple-component protection system. First, you have the Wrapz (the main shell) which provides protection all over your iPod except for the screen and click wheel. Next, we have the Bandz, which provides the extra padding for the sides; and finally, we have the Screenz, which provides the protection for your screen and click wheel. What make this fun is that all 3 parts are fully customizable.
There are plenty to mix and match (more than a million combinations, actually) that you can choose from. The inset picture is that of what I have configured for my iPod Video 60GB. I choose the Bright Red Wrapz, the Copper Bandz and the Penny Screenz. It really looks cool on my iPod.
This triple protection iFrogz system is made of 100% polished silicone for superior quality and no lint pickup; and is extremely affordable at $31 (regular price) for the wrapz, bandz and screenz. Currently, iFrogz is offering the whole package at $24.