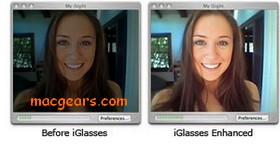 Are you unhappy about the images captured by iSight? Dark and blurry images? No images captured under dim lightings? Unable to rotate image when placed iSight sideways? In short, the iSight is pretty limited in terms of image enhancements and this is where your iSight requires iGlasses.
With iGlasses, you get get total control over your iSight by adjusting and manipulating your video settings from Mac programs such as iChat, iMovie, Photo Booth, Yahoo! Messenger and Skype. For G3 users, you will be pleased to know that iGlasses is able to activate video conferencing on your Mac computers which fall below iChat's minimum requirement of 600 MHz.
iGlasses made it so easy to use their software through preset settings such as brightness, black and white, sepia and crazy colors. With the iGlasses, you are able to video conference in the dark using their night vision preset. If you are not satisfied with the built-in presets, you can fine-tune them and save these custom settings for your use in the future.
Click here for a free demo version or purchase the iGlasses for $8.00.