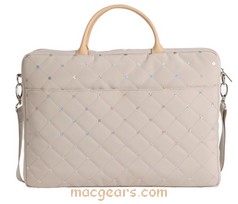 If you want to remain fashionable, drop those stock laptop bags and pick up one of Abbi New York's designer laptop bags. My personal favorite is the Sequins Mina range; a classic slim working bag. Just like a woman, the Mina is of refined beauty which is made of quilted sequins and has an adjustable strap for comfortable shoulder rest.
The Mina slim working bag can fit 17″ screen display laptops. The bag has exterior pockets where you can store accessories that requires easy access. The Mina bag comes in a choice of ivory and black colors and is priced at $79.95.
For the men, this will be a very appropriate gift for your loved ones. 😉
More information and purchase details can be obtained from Abbi New York's web site.