Who says computer geeks can't be fashionable, hip and trendy? With Flickz stylish laptop sleeves, technology has never looked so good. No longer would you have to look like a working sales agent every time you have your laptop with you. With Flickz Mac sleeves, you can give your precious gadget the home it deserves- in a cool-looking laptop protective sleeves that spells out 'style' in one glance. Now you can scrap out that dull, bulky and boring bag that you have that comes with the purchase of your laptop and say hello to trendy Mac sleeves that can turn your laptop to an instant fashion accessory that you can flaunt all you want. Why go for a Flickz case for your Mac?
Here are some pointers why: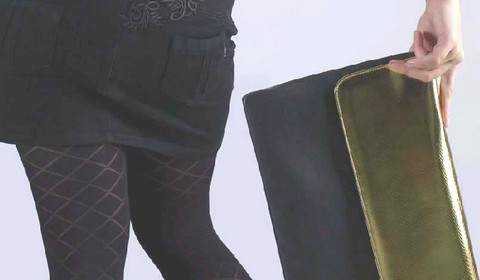 Fashionable collection
If only your Mac can talk, it would surely yell out in excitement with Flickz trendy laptop sleeves. It comes in a number of designs. You can choose from four basic color cases on their standard collection which includes yellow, black, pink and white. Flickz has a total of 10 standard design including Exotic Yellow, Champagne Gold, Exotic Black, Pink Flora, Exotic White, Black Executive, White Chroma, Blue Executive, Jet Black and Pink Chroma. Each laptop sleeve also comes with a ring hole where you can put your key chains or any dangling accessories you want.
Option to customize
Flickz offers an exciting thing for their costumers. You can actually customize your own Flick sleeves according to your own personal style. That gives you more value for your money. Product customization is fairly easy to do. You simply pick a particular sleeve flap design that you want along with the cover color of your choice. What's even more exciting is that you can preview the designs that you chose in real time via Flickz website. You can mix and match flap designs with colored covers so you can purchase a product that exudes your flare for fashion and your personal taste. You can also purchase several flaps which are detachable and interchangeable.
Unique and trendy
Flickz cases are not one of those mass produced laptop sleeves that you can find in the market. They offer their design and products on a limited quantity to ensure product quality and design exclusivity of their Mac sleeves. Their designers are perpetually in the process of creating new and trendy designs to ensure variety in their product range.
High quality
Materials used for Flickz cases are meticulously hand picked to ensure quality. The company chooses materials for their products on three standard factors – strength, quality and comfort. Flickz sleeves are made from top of the line PU leather for its exterior flap and inside, the material is made from scratch-free lining and high-grade density foam.
Easy to carry
Flickz Mac sleeves are made with lightweight materials to make it easier for users to carry them along wherever they go. There are designed not be bulky and slim enough to fit the standard slots in most bags.
Added protection for your Mac
Ultimately, one of the reasons why you should buy a Flickz sleeves for your Mac is to protect it. Flickz cases are not only fashionable but they are functional as well. It comes with high-grade density Polyurethane foam to give added protection when it houses your Mac. The inside lining of the sleeve is also soft and scratch-free so you don't need to worry about getting your laptop damaged. Flickz cases are also water-proof (but not water-resistant) so you don't have to panic over accidental water spills. You also don't have to worry about the sleeve's flap; it is securely held by high quality zips and also comes with a Velcro to make sure that your Mac is securely in place.
Warranty
On the Flickz website, you would be prompted to fill out a product registration form. Doing so would guarantee you a one year warranty for your Mac sleeves. This only shows the commitment of the company to quality product and costumer satisfaction.
Reasonably priced
Being fashionable always come with a price, but you don't really have to shell out a fortune. Flickz cases are offered at an affordable price of $36.90 for Macbook Sleeves and generic 14-inch sleeve and $39.60 for Macbook Pro Sleeve. You can also opt to buy only the sleeves for $15. Remember you sleeves are detachable so you can mix match flaps and covers to suit your mood for the day.
Other product choices
Flickz does not only cater to Mac users, they also recently launched four designs for HP Mini. Just recently, this new product line was successfully introduced in Singapore and is now available at Harvey Norman outlets. The collection has the same superb design and quality standards that Flickz is known for. The designs include Sophie Red, Angel Pink, Quincy Silver and Moon Slight Black. You can also customize your HP Mini sleeves according to your taste and personality. You can grab this new product at only $25.50.