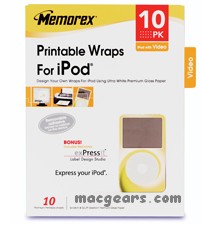 Are you feeling a little bored of the glossy black and white iPod colors? Do you want to refresh the look of your iPod but face prohibitive prices of iPod skins? Are you looking to constantly change how your iPod looks according to your mood? If you have answered "Yes" to any of these questions, then iPod Wraps is just the accessory for you.
iPod Wraps together Memorex's exPressit Label Design Studio software allow you choose choose from over 1500 backgrounds, images, and clip art (you can even select your own family photos or portraits). Your choice can then be printed using your inkjet printer unto the printable Wraps and attached to your iPod. With Memorex's removable adhesive iPod Wraps, you can now have decorate your iPod and at the same time protect it from scratches.
There are different iPod Wraps for iPod Mini, Shuffle, Nano, iPod 4th Generation, and the new iPod with Video. For more information, please visit Memorex's iPod Wraps page.