Do you want to
Copy music from any iPod
Copy DVD Movies to your iPod
Create ringtones from any MP3 or CD
Protect your valuable music collection from disaster
View daily news, weather, email and more on your iPod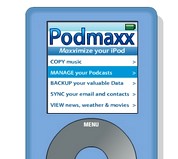 If you have answered yes to any of these, then PodMaxx Gold is what you need. With this amazing piece of software, you can truly unleash your iPod's potential to its fullest.
Here are some of Podmaxx's capabilities. Rip any of your DVDs to your iPod. This sure comes handy during long flights or long waits or boring lectures. Select any tunes from your iPod library and turn them into ringtones for your cellphones. Sync your emails and contacts to your iPod.
Talk about mobility. The Podmaxx will certainly increases your iPod's usage for $39.99 available from Bling Software.
Podmaxx Gold supports the following iPod models:
iPod Mini 4GB & 6GB
10, 20 & 60 GB iPods
iPod Nano