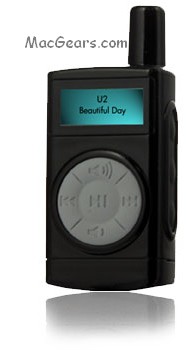 Imagine yourself lying down on the bed in the bedroom and your iPod is hooked to your home stereo. You had a hard days work and want to relax to jazz music. In the past, you will need to get out of bed, walk up to your iPod and change the music to jazz. Now, you can remain in bed and control your iPod via a remote control.
The iJet Wireless RF Remote for the iPod is the answer for iPod remote control. The remote works with a RF signal that will control your iPod from a distance of up to a 150 feet. You just need to remember to have the iPod in hold position in order to use the remote.
This iPod remote control work through walls so you can actually use it while you are in your backyard; and if you have your precious iPod safely hidden in your backpack, while rushing through the streets, the remote will allow you to control it without having to take it out in the open.
It is easy to use, looks great –as all iPod gadgets do- and above all is handy and practical. If you can't live without your iPod and you take it everywhere and need to control it while on the go, or you if are just a couch-potato, this might be the gadget for you after all. There are 2 variant to the remote control; iJet 2-Way LCD Remote and the iJet Wireless Remote with Bottom Dock. The difference is that the LCD allows you to view song selections, artists and playlists while the other does not.
As of this post, Amazon's price for the iJet 2-Way LCD Remote is $87.99
and the iJet Wireless Remote is $32.18
.