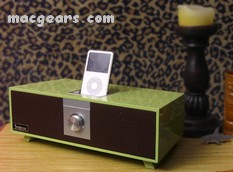 If you have a hip home; if you are a hip person; if you desire hip stuff and if you are into retro things, the SpeckTone Retro Table Top Speaker System is just what you need. The first thing that catches your eyes would be the speakers retro-ness, the wood construction and the awesome glossy piano finish.
The SpeckTone Retro sports a four-inch subwoofer and delivers 28-watt output where the volume is controlled using a large knob located smack centered (this system is remote control-less).
You can get your very own Retro Speakers in white, black and green for $99. For more information, visit www.speckproducts.com.