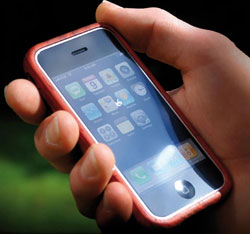 Although for many people, the sleek, highly polished finish and clean lines of the iconic Apple iPhone – hallmarks of the design genius of Jonathan Ive – are one of the main attractions towards owning one of these desirable devices, there are those who want to be able to enjoy the elegant functionality of the iPhone with a more natural appearance, and to this end, one of the leading iPod accessories companies, Miniot has recently released a range of wooden iPhone covers.
The range of natural iPhone covers in wood from Miniot build upon the reputation that the company has developed for producing high quality wooden cases for other models in the Apple range including the iPod classic. The wooden cases are produced to the absolute highest standard, and use only the finest woods.
By using natural materials from sustainable sources, Miniot have managed to tap into the imagination of many of the first wave of iPhone owners by giving them the opportunity to give their stylish phone a really great and eye catching natural look.