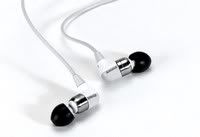 To really enjoy the music on our iPods, we need to invest in a pair of good earphones. Similarly, in car audio enthusiasts, they invest a pair of good speakers, cables and audio gadgets. In both cases, it bring about enjoyment to the owner.
The Shure sound isolating earplugs were designed for this purpose. These earplugs delivers brilliant highs and extended bass enhancing your listening experience. Also known as ear-canal plugs, Shure's earplugs blocks out background noise naturally enabling the listener to enjoy soft music or low volume even in a loud environment.
Since everyone's ears are different, the earphones or earplugs (depending on the model) come with disposable foam sleeves, triple flange sleeves, three pairs of flex sleeves (small, medium, large), and three pairs of Soft Flex Sleeves (small, medium, large) to ensure the ideal personalized secure fit and comfort. The earphones can be packed into a compact carrying case to provide convenient and tangle-free storage.
The Shure sound isolating earplugs are retailed between $99 and $499.
Now, if you'll excuse me, I'm going back to listening Paramore on these great earplugs.