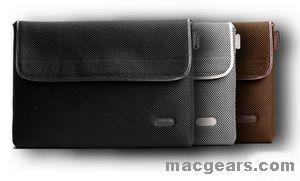 My PowerBook is like my little baby. And like all babies, I will tend to them carefully, making sure that they are protected in every way possible (money consenting). One of the many ways to protect my PowerBook is through the use of sleeves.
Sleeves such as Glovez by Case-mate which is made of ultra soft neoprene material ensures that my PowerBook will not be scratched during transportation. On the exterior, the peforated nylon adds a touch of modernization and the double Velcro on the flaps add on to the security. To further strengthen the edges, every sleeve is marked with leather piping to avoid the materials from tearing or fraying.
Measuring 15″ x 11″ x 0.9″, the Glovez comes in 3 choices of colors; Mocha Brown, Metallic Silver and Phantom Black. These sleeves are retailed at $24.99 and is available from Case Mate's store.