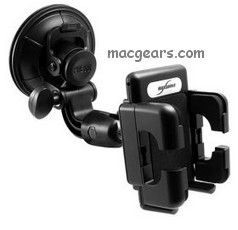 There are literally thousands of different kits available to mount your mobile phone in the car, but very few are as flexible or as adaptable as the latest model from BoxWave. Whereas in the past many hands-free phone holders for the car have needed to be screwed into place, and were only compatible with a single model of mobile phone, modern consumers need mobile phone holders that are more easy to adapt to different models, and can be easily fitted in any car.
Everyone now knows that it is a bad idea to try and use your mobile when you are driving, particularly if you need to hold it. You can minimise the risk of losing your concentration through using a mobile phone by having it mounted in a cradle in the car rather than having it in your hand, and there have been a range of different options available for some time.
The Boxwave mobile mounting kit can be fitted in seconds, and simply attaches to the windscreen of the car using a suction cup. Once it has been securely fixed into place, it is stable enough to hold almost any mobile phone in a widely adjustable cradle, which offers complete support for mobile phones between 1.6 and 4.25 inches in width.
With its solid construction, and well finished with a thick layer of foam to protect your mobile phone from damage, the Boxwave Mobile Mounting Kit offers the perfect removable solution for using your mobile phone in the car.
By mounting the phone at eye level on the windscreen rather than lower down on the dashboard, it is less distracting in use, as you will not have to move your head to see who is calling, and unlike kits which need to be screwed into place, the Boxwave mounting kit for mobile phones can be removed in seconds, in order to allow you to swap it into another car when ever you need to.
Thanks to its design strengths, convenience and quality, the BoxWave mounting kit is ideal for any one who needs to make calls on the go, and wants to drive as safely as possible even when using their mobile phone. The BoxWave mobile mounting kit is available at Amazon for $32.95
.