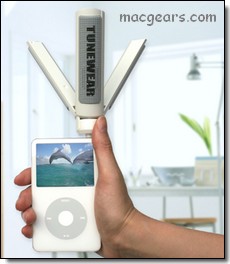 If you have an iPod, it is extremely likely that most of your music are stored on it. An iPod makes your music portable, but you only listen to them through your individualized headphones. One of the alternatives to release you from wiring your ear to your iPod, you can buy a floor model speaker but you have limited portability and mobility – simply because you need to be near the floor speakers. The answer to true mobility and portability without the need to sacrifice your outlook and style is the Boomtown Mini Tripod Speaker by Tunewear.
The Boomtown Mini speaker plugs right into your iPod headphone slot and then opens into an upside down tripod or if you prefer, an upside down umbrealla. All of your songs, movies and podcasts that you have selected will be played through the Boomtown Mini speaker. It can provide approximately ten hours of usage on a single AAA-sized battery.
Best of all, you can take the speaker with you anywhere that your iPod goes- great for use in the car or at the beach. Speaking of its aesthetics, this ingenius tripod design allows you to get great quality sound in a circular area around the iPod and works with any size of the iPod. Each portion of the speaker folds towards the middle to make it easy to carry. This is a great alternative to a higher priced iPod speaker or dock if want to be able to listen to music on the go without headphones.
Priced at $39.95 the Boomtown Mini comes in white or black colors. You can also get the Boomtown Mini from Amazon at $34.99
.