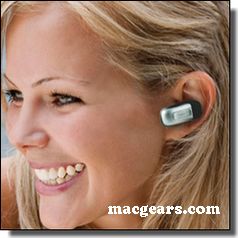 Manufactured by the respected iPod accessories company Radtech, this new Bluetooth headset for the stunning Apple iPhone will allow you to take calls on the move and leave your hands free to carry out other tasks including driving or working at the computer.
The Radtech iPhone Bluetooth Headset is also completely compatible with the full range of Apple Products, and you can even use it with your Mac to make Internet phone calls using VOIP software like Skype.
As with all Bluetooth accessories, this headset is an absolute breeze to set up, simply switch it on and then use the touch screen menu of your iPhone to connect to the headset. You will then be able to answer calls simply by touching the ergonomic button on the side of the unit. Because it is able to integrate so seamlessly with the Apple iPhone, the Radtech BT400GL is able to support voice dialling to allow you to make calls without even touching your handset.
As with all Radtech Bluetooth products, the iPhone headset is manufactured to the highest standards and is built to last. It is lightweight enough to wear for long periods of time while driving, and offers excellent battery life of up to 350 hours between charges thanks to the built in lithium polymer battery.
The Bluetooth ear piece also comes with a handy support cradle with an integrated charger to keep it safe and secure when you are not wearing it. The cradle is also portable and features a subtle vibrating alert when you have an incoming call.
Unlike some Bluetooth headsets for Apple iPhone, the Radtech model comes with a range of different ear pieces to give the best possible fit, and is available in a choice of either pink or brushed metal to suit any taste. The Radtech BT400GL Bluetooth Headset is priced at $64.95; more information can be obtained from Radtech web site.