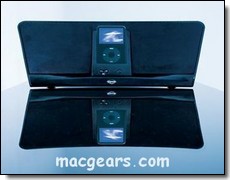 IF you are looking for a shelf system for your iPod, consider Klipsch's iGroove HG. For 60 years, Klipsch has been building horn technology and speaker design and the result is a remarkable iGroove HG. If you own other MP3 players beside the iPod, you can be rest assured that the iGroove HG works with almost any MP3 player brands.
In the packaging, you can find the main unit, remote control, power cord and adapters for different iPod models. To start enjoying the iGroove HG, simply choose the proper iPod adapter, dock your iPod and turn on the power. While you enjoy the music streaming out, the iGroove HG charges your iPod. The iGroove lacks in terms of portability as it does not run over batteries; power sockets are your only choice of powering this shelf system.
One last word, with the super glossy finish and curvy shelf system, the iGroove HG begs to be placed smack center on your shelf; gathering attention as it is meant to be. Docked and loaded, the iGroove HG is indeed a rockstar in your home.
Retailed at $249.99, Amazon is offering this product at $199.99
. More information on the iGroove HG can be obtained from Klipsch's website @ www.klipsch.com.