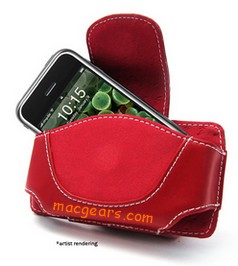 The Apple iPhone will not be available to the US market until June 2007 but yet, the iPhone cover cases have already hit the streets. I duely applaud Incipio for making inroads to offer iPhone pouches in anticipation of consumer demands.
The last thing you want on your Apple iPhone are scratches, dings and scuffs. Protect your Apple iPhone with Incipio's premium high quality leather case that features soft supple micro suede on the inside and magnetic flip strap that holds your precious iPhone in place. There are 2 mini compartments to hold extra memory cards. For easy carrying, the case comes with a built in belt clip.
Incipio's Horizontal Pouch for iPhone is retailed at $19.99 but you can purchase it directly from their store for $14.99. You can choose from a variety of colors from black, red, brown or pink.