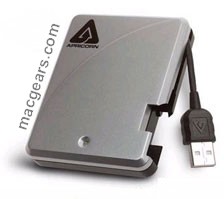 Have you ever considered how much important data you have on your computer? Vital documents such as bank details, emails, and family finance information as well as important photos are all stored on your computer, and if for any reason you lose it, you would be in deep trouble or rather in deep regret.
We are all protective enough of our paperwork, keeping it fireproof filing boxes, and yet we do not do the same for our electronic data. Very few of us take the time to make a regular back up of our vital information, despite the fact that it can so easily be lost. A power surge, the theft of a computer, or a domestic accident can all result in us losing all of our valuable data, and yet, making a back up is a simple task that takes almost no effort at all.With an Aegis Mini 1.8" USB Ultra Portable Hard Drive you can make a back up of all your data and keep it safe. It is small enough to keep in your pocket, yet big enough to contain upwards of 30GB of files, making it the perfect companion for your computer.

The Aegis Mini 1.8" USB Ultra Portable Hard Drive comes in a choice of sizes from 30GB up to an enormous 100GB, and yet is incredibly lightweight and weighs just 3.5oz. Unlike many competing products, this tiny device does not require an external power supply, and simply plugs into the USB port on your computer.
Whether you are looking for a portable drive to let you transfer files between your home and office; additional storage space because you have filled up the drive on your computer; or want to keep a secure back up of all your important files, the Aegis mini 1.8" USB Ultra Portable Hard Drive is the answer to your needs.
This mini hard drive is compatible with both Mac and Windows computers, and is fully shock mounted to protect the internal components when you move it, and comes complete with all the security and encryption software that you need to ensure that no-one but you can gain access to any sensitive information that you have.
The Aegis Mini USB Drive ranges from $119 to $279 depending on its storage size. You can read customer reviews
and purchase the drive from Apricon web store.