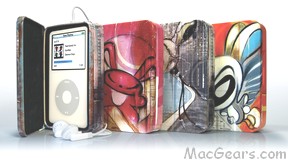 Here's a set of iPod video (30GB and 60GB) cases which are hard and durable. With this case, you need not worry about screen cracks or scratches as your iPod is totally encased. The drawback is that you will have no access to your iPod's scroll wheel and screen; which simply means, no songs selection, no volume control and no video!
The TinPods currently feature illustrations by Kurt Ketchum who is a renowned illustrator based in Rochester, New York. All these TinPod designs are actual paintings by Kurt who believes in blurring the lines between art and graphics. According to Kollective.de, they are starting off with these 3 designs as limited editions – more designs are expected to arrive.
If you want to do your bit for charity; for every TinPod that you purchase, a dollar will be donated to CityArts charity. The TinPod is available in 3 designs (L'Orange Lune, Change Attitude and Die Blechdose) and is priced at $16.95 each or $29.95 for two.