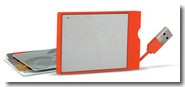 This has got to be one of the smallest or should I say, the slimmest USB storage device I have ever seen. With a monstrous 8GB storage, the Lacie Carte Orange sports a USB2.0 high speed connection and comes in the form of a credit card. At just 6mm of thickness, the device can fit comfortably in my wallet. Compared to the other flash storage devices, you either hang it around your neck or store them in the usual notebook bag pocket.
With 8GB of storage literally in my pocket, I can now travel with thousands of files, images, music or videos; transferring data at ease; the ultimate freedom of mobility.
Available at $149.99 from LaCie Store.